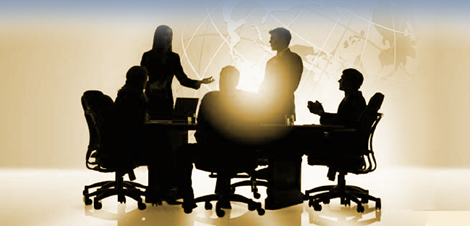 The goal of resolving conflict in a personal or business relationship should not be victory or defeat. It should be reaching understanding and letting go of our need to be right.
The Arsenal Companies Mediation Service offers many benefits for those in need of conflict resolution. Some of those include, time, neutrality, confidentiality, and financial savings in comparison to the judicial litigation process. Our mediation service is provided by an attorney with an extensive background in/knowledge of the law who specializes in negotiations and alternative dispute resolution.
Our mediators
Have experience in the subject matter
Understand the negotiation process and their role as a neutral third-party
Earn trust and maintain neutrality
Offer principles and criteria to help guide decision making
Encourage disputants to make their own choices
Know existing standards of practice covering alternative dispute resolution processes
Demonstrate experience in encountering ethical dilemma
---
What to expect – 5 steps to a successful settlement/resolution.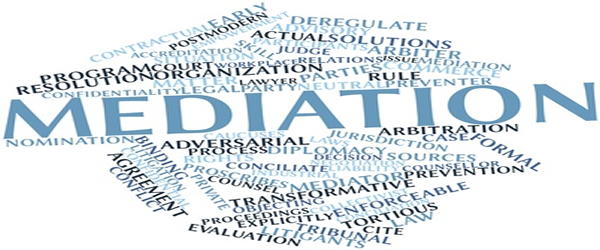 1. Acknowledging that there is a dispute and agreeing to explore solutions to end it.
2. Telephone calls by the mediator to each of the parties (or their attorneys) to get agreement on:
the issues in dispute as well as the issues about which there is no dispute
an estimate of the time to be allotted for the mediation
the date(s), times and locations for the mediation session that work best for the parties
the mediator's fees and how they will be allocated and paid
who will be attending
there being no conflict of interest on the part of the mediator
The mediator will also seek to develop an understanding of:
what negotiations may already have taken place
whether the matter is pending before a court
whether the parties intend to submit written arguments or a proposed memorandum of understanding prior to the mediation session
3. The execution of a mediation/confidentiality agreement prepared by the mediator to be signed by the parties and, if applicable, their attorneys.
4. The mediation session
–  The initial joint session consisting of the mediator's opening statement and the parties opening statements (the opportunity to present and communicate their positions and important information).
— Caucusing (where the parties go to separate rooms). The mediator will meet with each of the parties privately (to learn more about their respective positions, interests, and goals) and go back and forth between the parties with the end goal of finding agreeable common ground.
5. Closing
If a settlement or understanding is reached on resolution of the issue(s), an agreement is prepared and signed reflecting the resolution of the dispute and all parties receive a copy of the agreement.
---
The Benefits of Mediation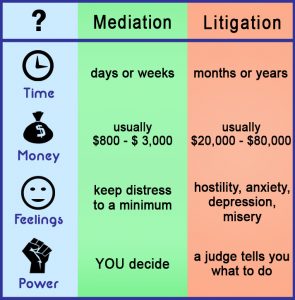 A confidential, private, comfortable and non-adversarial environment.
YOU have the final say, in deciding whether or not to settle. The mediator will not make or insist upon anything. He/she will be absolutely neutral. Either side may abandon the mediation at any point.
A successful mediation will eliminate unknown risks associated with a court/arbitration decision and can eliminate the possibility of appeal.
You can reduce or even eliminate attorney fees and court costs.
A successful mediation will allow you (instead of a court) to decide important non-monetary issues such as: release language; rules of post settlement confidentiality; non-disparagement language (including social media 'do's and don'ts); non-competition agreements; enforcement mechanisms; potential tax ramifications, etc.
A preferable way to end the stress, anxiety and emotional pain of a dispute in an environment where you can communicate important information in a comfortable, non-adversarial way.
All with the assistance and guidance of an empathetic facilitator with over 40 years of legal experience who will work with you to achieve a fair, durable and sustainable settlement.


Areas of Dispute Resolution:
Contractual disputes
Commercial disputes
Consumer complaints (including personal injury and products liability)
Employment disputes (e.g., wrongful termination, discrimination, sexual harassment, severance, expense reimbursement, ADA, indemnification, breach of confidentiality or non-competition agreement, etc.)
Administrative Law
Professional negligence or malpractice
Landlord-tenant disputes
Real estate disputes of all types (encumbrances, zoning, appraisal, HOAs, condominiums, cooperatives, commissions, foreclosures, etc.)
Whether the dispute is financial, relationship, business, employment, community, multi-stakeholder, or a combination… achieving a sustainable and durable agreement is the ultimate goal.